New Oldham boss Paul Scholes hopes to tap into former club Manchester United to give his first foray into management a boost.
The 44-year-old has taken the job with his hometown club and been given a one-and-a-half-year contract.
He believes the current squad is good enough to achieve what he wants but it will not stop him using contacts from his playing days at Old Trafford for the odd helping hand.
The Latics – currently 14th in Sky Bet League Two – have Zak Dearnley on loan from United's academy and the 20-year-old scored on his debut at the weekend.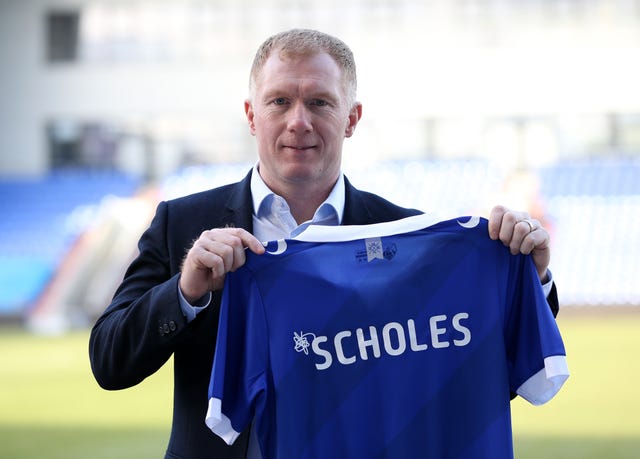 Asked if he would be using his contacts, Scholes said: "I'll be trying to do that.
"Zak has come in and scored his first goal on Saturday. He made a big difference in the game so I was really pleased with him as a young player.
"You need contacts at this level all over the place, I have a few – not just Man United.
"I'm close to Nicky (Butt, United's head of academy) and the people at United, if they can help me I'm sure they will."
Scholes also has close ties with Salford City along with his fellow 'Class of 92' members Gary and Phil Neville, Butt, David Beckham and Ryan Giggs.
He did not take any advice from them before accepting the Oldham job, although his move had to first be ratified by the English Football League because of his ownership stake in Salford.
"They just wished me good luck, we haven't really spoken that much," added Scholes.
"They just want me to do well, like in the jobs they're doing; Phil with the (England) women's team, Ryan with the (Wales) national team and when Gary went to Valencia.
"We all want each other to do well and I hope they want me to do well here too."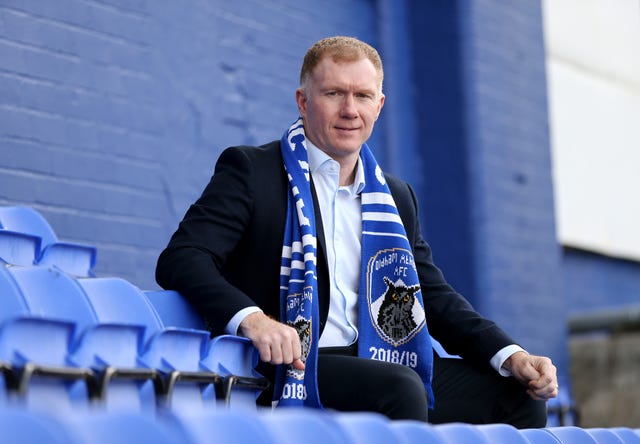 Scholes said there would be no conflict of interest with Salford, even if they did get promoted from the Vanarama National League.
"If Salford got promoted and we don't we could play each other, there's the potential to play each other but it's never an option," he said.
"I don't really do anything at Salford, I'm more of a fan, seeing how the team is doing. I might have to play them one day but I'll be trying to beat them.
"I can keep the 10 per cent stake. I've had to resign as director of the club; I was non-operational and it didn't really confuse matters.
"I'm here now to give 100 per cent to Oldham. My main focus is Oldham."
Scholes lives nearby and Oldham is his father's club, and that held great sway in persuading him to take his first leap into management.
"I just feel ready. There have been times in the past when it's been an option for me but it never felt right," he said.
"I wanted to come into this with my full coaching badges and I've got them now. I've watched them closely: I think they are a good team and have some good players.
"I know they are mid-table at the minute but with the squad we have it should be pushing for promotion. That might be out of reach this year but certainly next season."
Oldham were a Premier League club between 1992 and 1994 but Scholes is not dreaming that big just yet.
"That's not my target at the moment, my target at the minute is to beat Yeovil tomorrow night," he said.
"It will be difficult to get to that level again but you have to have that ambition. The town was brilliant then, it was a great place to be, full crowds week in, week out, great cup runs.
"We want those times back again, of course we do, but it's a long way to go."